May 21, 2021
Mudasir had never anticipated that his art would lead him to spending nights behind bars.
"Did my artist son deserve to be in jail?" Mehbooba asked me, anxiously, twirling her granddaughter's hair pin between her fingers.
It was Mudasir's third day in jail, and everyone in his neigbourhood, and extended family was calling up his parents and asking, "why him?"
Mudasir Gul, 31, is an artist who lives in Srinagar's Padshahi Bagh, a neighbourhood known for its defiance during the 2016 uprising.
It was the second day of Eid, Kashmir was eerliy silent, yet agitated to see Gaza burning, being bombed.
The death toll of Israel led airstrikes had already crossed 100 by Friday. Soon after the Zuhr prayers concluded in Srinagar, a few localities took out anti-Israel demonstrations calling an end to the killing of Palestinians.
The young boys of Padshahi Bagh too wanted to send out a message of solidarity for Palestine. Keeping in view the pandemic, they did not want to carry out a protest rally, yet do something to show support for Palestine. So they knocked at Mudasir's door, the artist in their neighbourhood, and requested him to draw a mural in support of Palestine.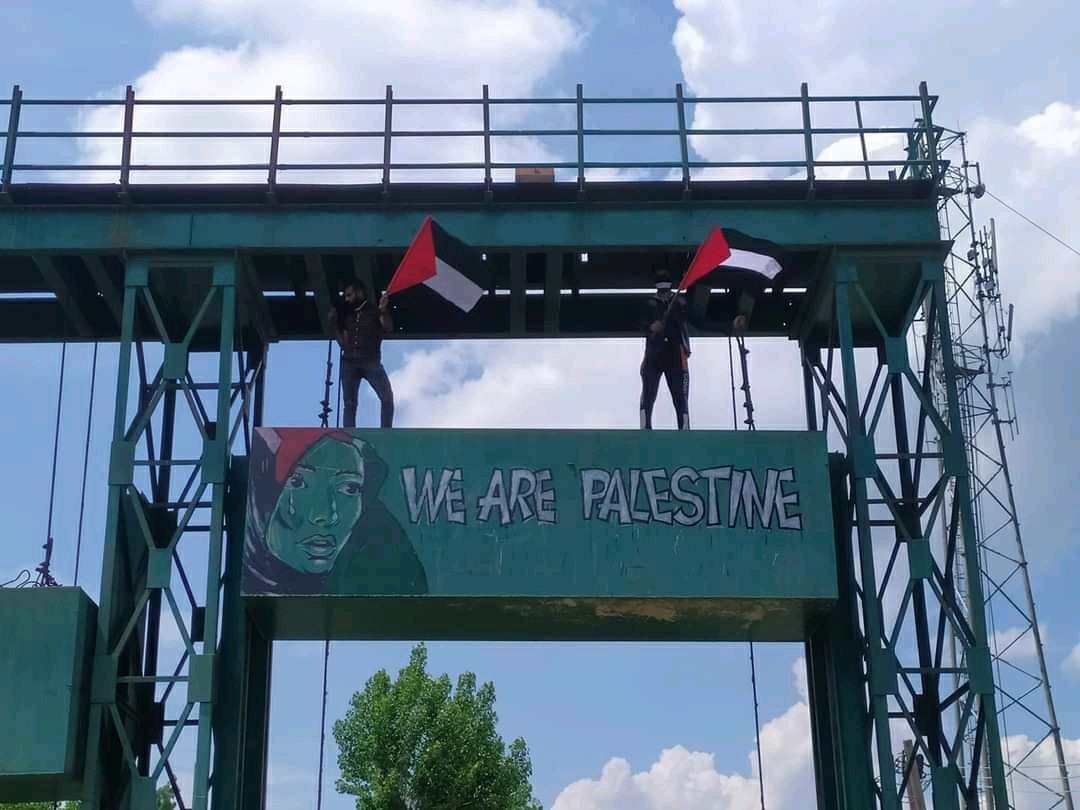 Well aware of the curbs on freedom of expression in his homeland, Mudasir was a bit hesitant, but too polite to turn down the request and refuse. He agreed, and left his home to draw the mural.
Mudasir had never anticipated that his art would lead him to spending nights behind bars.
No one in his family had imagined their introverted son, who spent all he earned in stocking paint and sketchbooks, and all his time in painting, would ever face detention.
Mudasir's father, Ghulam Mohammad, leaned against the window of his son's room, looking at his son's paintings he said, "this is how my son expresses himself. Where in the world do they arrest you for expressing your emotions?"
When Mudasir finished the mural, he came back home, and a few moments later, there was another knock at the door. Mudasir was called to the same spot where he made the mural, this time not by his neighbours but by the Police.
The policemen surrounded Mudasir, handed him a tin of black paint and told him to deface the mural. He climbed up again and did as he was told.
"When my mother learnt of this, she ran to the spot fearing they might arrest Mudasir," his sister, Muzamil added.
But Mehbooba was assured that they would let her son go. So she came back home.
Later, a woman in the neighbourhood informed the family that they took Mudasir away in a police vehicle.
The news of the arrest had left both the parents devastated.
"My father is a heart patient. He is deeply affected by Mudasir's arrest," Muzamil said and left the living room to attend a call.
Moments later, she came running to her mother and broke the news of Mudasir's release to her.
"Mudasir is free. He is on his way back home."
Hurriedly, Mehbooba emptied packets of almonds and candies on a tray, and stood at the door, awaiting for her son's return. As Mudasir stepped down from the car he hugged his nieces, Rida and Noor, who he is most attached to.
The family sat together for evening tea, while two year old Noor rolled on the carpet shouting with excitement, "We are all together."
"I convinced myself that this would not bother the regime, since the artwork was anti-Israel and in support of Palestine, not anti-India," Mudasir says.
Mudasir is happy to be back with his family, yet he is anxious.
"I will have to think twice next time before expressing myself. I don't want any more trouble for my family," he says.
"Mudasir is a god-gifted artist, and we want his passion and hard work to take him to places, but this arrest has left us with little hope," his sister adds.
His family now worries for his future in a place where thought and expression is a crime.
Source https://freepresskashmir.news/2021/05/16/did-he-deserve-this-kashmiri-artist-jailed-after-painting-mural-for-palestine-returns-home/