From cricket players to journalists, Kashmiris are being booked under a law critics say is designed to stifle all dissent.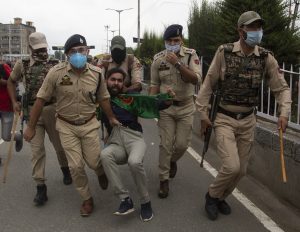 The fear is palpable. Until a few weeks ago, the field in Nazneenpora hamlet in the southern district of Indian-administered Kashmir was alive with youth playing cricket. In the first week of August, the cricket ground, which also serves as an Eidgah or prayer ground during Muslim holidays, was swarmed with spectators from nearby villages who had come to witness a "friendly match" organized by a local youth in the memory of his deceased brother – an armed rebel killed in 2019. He even distributed jerseys among the players and some of the spectators too. In the weeks that followed the match, the ground was full of sports activities as usual.
And then came the arrests.
The Jammu and Kashmir Police booked 10 players in the memorial cricket match under the stringent Unlawful Activities (Prevention) Act – more commonly referred to by its acronym UAPA – for, what they called, "glamorizing militancy." Of the 10 players, nine have been arrested.
Syed Tajamul Imran, who organized the cricket match, has also been put behind bars. The day the match was played, he had written on his Facebook profile – which he has now disabled – that he had organized the match in the "loving memory" of his brother who was "a talented cricketer, admired by his friends for his love for the game and talent he had got." https://thediplomat.com/2020/09/empty-fields-the-use-and-abuse-of-uapa-in-kashmir/