Seven million people are still unable to go online after a ban first imposed from Delhi last August
Indian government in August is now the longest on record, and has left people's lives, jobs and the economy in tattered ruins. It has also, according to doctors, cost lives; how many, they say they will never know.
For Imran Hafeez, a 43-year-old doctor with nearly two decades' experience as an intervention cardiologist, it has meant watching the devastating demise of his revolutionary and lifesaving initiative, Save Heart Kashmir.
In Kashmir, where mountainous terrain and archaic road networks mean travel can often take days, patients suffering from cardiac emergencies often don't have access to specialist doctors or major hospitals in time. But through a volunteer network, 1,200 doctors across the region were connected to each other through four groups on WhatsApp, the instant internet messaging app, where they shared reports of cardio emergencies and sought instant diagnosis.
"It was the best virtual hospital and doctors were united by WhatsApp. It was a wonderful initiative," said Hafeez, proudly recounting one of their cases, where a young man in a remote mountainous region was displaying sinking blood pressure and severe chest pain and quickly slipping towards an imminent death. The medic attending to the man posted a message on the group and, several hundreds of miles away, Hafeez instantly recognised that the man was having a heart attack.
"Hit him quickly," Hafeez wrote to Sheen, the medic who had sent the patient's ECG from remote Ladakh. "Get two IV access. Start Thrombolysis. And another (IV) give 20ml Bolus NS. Don't waste time." Ninety minutes later, the young man was stable and conscious.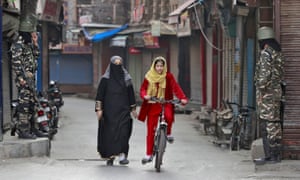 Over the 500 days it was running, the group operated round the clock and analysed 38,700 ECGs, handled 19,395 cases and administered thrombolysis 778 times to clear blocked veins. That was until 5 August, when an indefinite internet suspension was imposed upon the region and, five months on, shows no sign of being lifted.
https://www.theguardian.com/world/2020/jan/05/the-personal-and-economic-cost-of-kashmirs-internet-ban