Security forces fire and lob tear gas shells to quell protests against an anti-militancy operation in a Pulwama village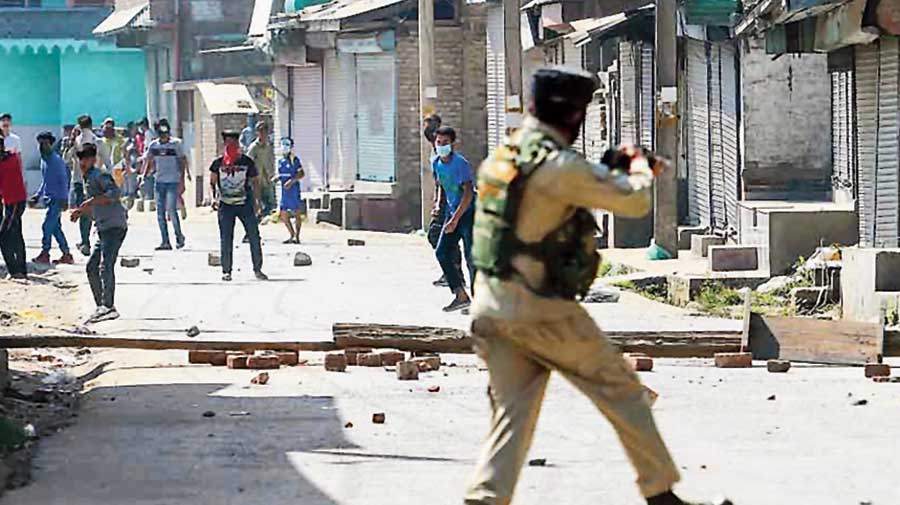 Stone-throwers in Srinagar.
Security forces fired and lobbed tear gas shells to quell protests against an anti-militancy operation in a Pulwama village on Friday, injuring about a dozen people and reinforcing the view that stone-throwing was returning as a normal feature of encounters in Kashmir.
While most of the injuries were caused by metal pellets and tear gas shells, at least one villager suffered a bullet hit for which local people blamed the troops, who blamed the militants.null
Three militants died in the gunfight near Kakapora, during which clashes broke out between stone-throwers and the security forces near the encounter site.
The trend of young men risking their lives by storming encounter sites to rescue trapped militants had begun in early 2016, but the forces had largely succeeded in curbing the practice in run-up to the abrogation of Article 370 provisions in August 2019.
But such clashes have gathered momentum in recent weeks. Inspector-general of police Vijay Kumar recently claimed that stone-throwing had become a more serious problem than militancy.
Kumar said two of the three dead militants were involved in Thursday's attack on the home of a senior BJP leader in Srinagar during which a police constable was killed.
Local people said the troops had targeted not just the protesters but also others.
Ishrat Aziz, 25, received a bullet injury inside her home while she was busy with her household chores.
Ghulam Nabi Dar, 61, a retired government teacher, had his arms and torso riddled with pellets. The former teacher said he was targeted without any provocation, insisting there was no stone-throwing in his area.
Hospital sources in Pampore, Pulwama, said they had treated 11 people from areas near the encounter site, some with pellet injuries and one, a woman, with bullet injuries. Two patients came with pellet wounds in their eyes, they said.
Videos purportedly showed protesters raining stones on a security vehicle at the encounter site.
In recent years, the forces had intimidated prospective stone-throwers through the frequent use of pellet guns, arrests and other measures, prompting the Centre to claim to have "restored" peace in the Valley. Pellets have blinded hundreds in Kashmir over the years.
Police sources said they frequently encountered stone-throwing mobs during encounters these days. "But in most cases they are not allowed to come close to the encounter sites," a source said.
Videos showed the forces using explosives to blow up a residential house where the militants were apparently holed up — a common anti-insurgency tactic employed by troops.
While violent protests are re-emerging, militancy-related violence shows no sign of ebbing. The militants are targeting BJP leaders in particular.
Two BJP councillors, Reyaz Ahmad and his father-in-law Peer Shamsuddin, and a constable were killed in an attack in Sopore on Tuesday.
Two days later, militants attacked the Srinagar home of senior BJP leader Mohammad Anwar Khan. He was unharmed but his personal security officer was killed.
The secretary of the Jammu and Kashmir BJP, Farida Khan, who was the target of the Sopore attack, told this newspaper that party members were feeling unsafe in the Valley.
Source:https://www.telegraphindia.com/india/stone-throwing-returns-in-kashmir/cid/1811532